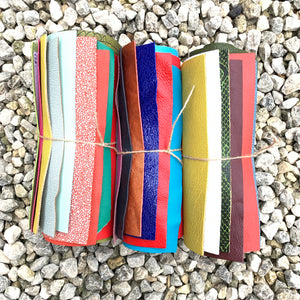 10 *Approx* A4 sized swatches of leather.
All bundles inlcude a random selection of leather on various different raw materials such as Goat, Cow, Calf and Buffalo.
Various colours and finishes such as suede, classic milled grains, glazed finishes, waxy pull ups, metallic foils and many more.
The pieces will all vary in substance but average between 0.8- 1.4 mm.
*where we feel swatches are slightly too small we will add an extra swatch into the bundle.
*When ordering two or more bundles, enter code MYSTERYDUO10 for 10% off*